Custom Rom CyanogenMod 12.1 Andromax A Terbaru 2018 – Kali ini saya akan berbagi ROM CyanogenMod 12.1 untuk Andromax A terbaru 2018. Banyak dari opreker hp smartphone yang mencari custom rom untuk Andromax nya, salah satunya adalah custom rom Cyanogen Mod ini. Apa saja keunggulan rom cyanogen mod ini? yuk simak pembahasan lengkapnya berikut ini.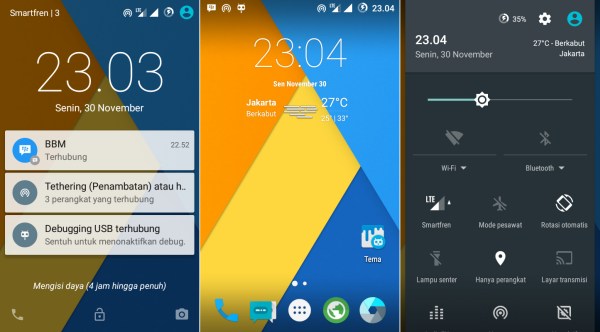 rom cyanogenmod by cararoot.com
Fitur dan kelebihan rom CyanogenMod 12.1 untuk Andromax A sebagai berikut:
– 4G/H+ On sim 2
– NEW Kernel TurboCE Rev8F1
– Thermal Patched For Avoid OverHeating
– Updated BusyBox
– CPU Hotpluging
– The Mix Of Android M & CyanogenOS Component Files
– Better MultiTouch
– Patched services.jar For Disable Signature Verfication
– Include Xposed Installer & Frameworks
– Include GApps
– Include Dolby ATMOS & Viper4 For Better Music Experience
– Better Performance
– Better Graphics Performance For Gaming
– Smartfren Bisa SMS & Telp
– Incluade Fix ROOT
– And Many More.
Setelah mengulas beberapa kelebihan ROM CyanogenMod, langkah selanjutnya adalah memasang Rom ini ke Andromax A. Berikut Bahan-bahan untuk memasang ROM cyanogenMod Nya:
– Link Room Cm12.1 Klik Disini
Setelah Bahan Sudah Siap Mari Kita Install ROM CyanogenMod berikut ini caranya:
1. Masuk Twrp Tombol Vol up+Power
2. Wipe Data Dalvik Dan cache
3. Flash Room Nya Tunggu Hinga Selesai Trus Rebot

Done.. Kini anda Memakai Room Cm 12.1 Selamat Mencoba..
Thanks To -Allah Swt
-Grup Max A
-Saya Sendiri
-Kalian semua
Demikian artikel kali ini tentang
Rom Cyanogen Mod 12.1
untuk
andromax a
yang sudah admin bagikan kepada para pembaca umum dan para pengguna hp andromax. Semoga dapat membantu kalian mengganti cusrom andromax terbaru dan bookmark blog ini akan ada update kedepannya lagi.
Keyword Tags: rom cyanogenmod andromax a
cyanogenmod nightly butterfly andromax a
cm12.1 andromax a
rom andromax a
cyanogenmod 13 andromax a
custom rom andromax a
rom cm14 andromax a
cm 12.1 andromax a
rom cm12 andromax a